Click on the link below to see important information and guidelines for tonight's playoff football game at Carl Albert. These details include admission, parking, and other important guidelines.
https://5il.co/295te
Click the link below for Carl Albert Football guidelines and procedures if you are planning to attend the playoff game Friday Night.
https://5il.co/28vdb
Cardinal Family, We want to remind you of today's CEF fundraiser with the El Jalapeno Grill in Collinsville. A portion of ALL sales for today help fund classroom grants for our teachers and students.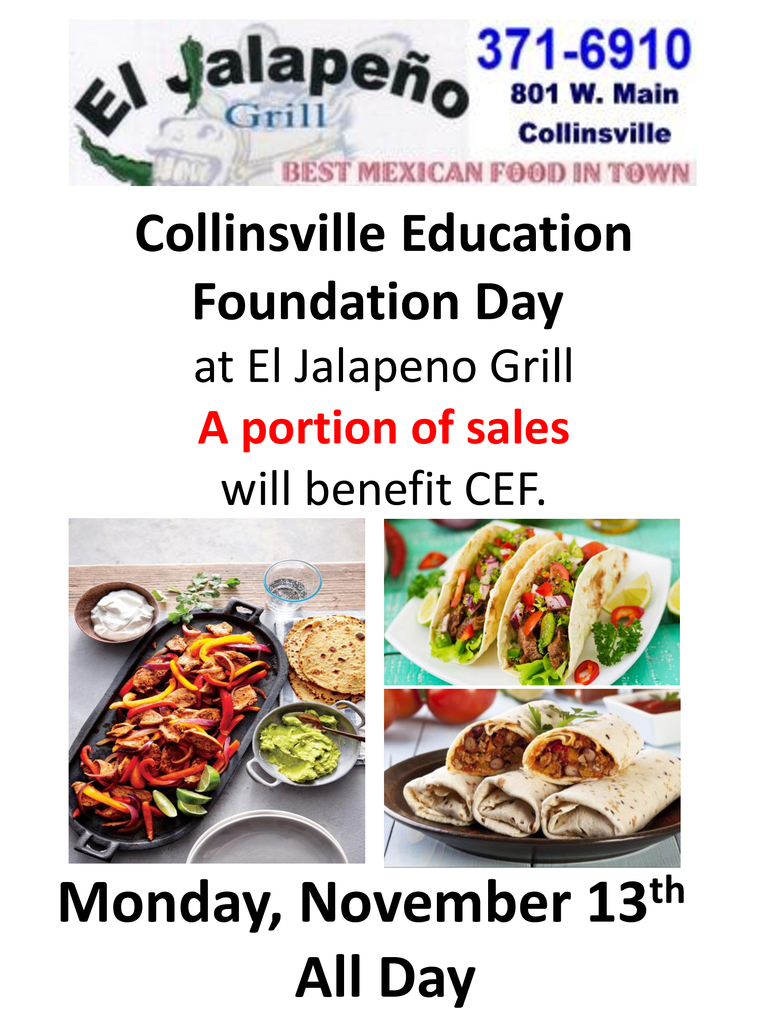 Cardinal Family, If you're looking for lunch or dinner on Monday, November 13th, a portion of all sales from El Jalapeno Grill will go directly to the Collinsville Education Foundation. Thanks, and we hope you have a great weekend.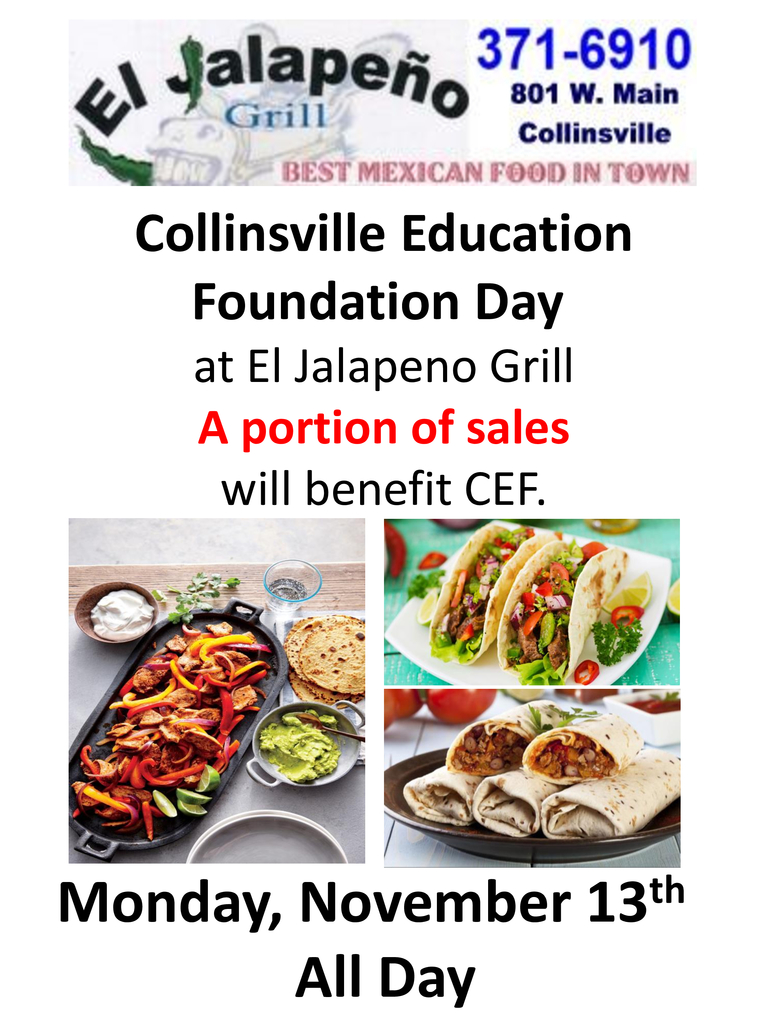 Attached you will find important information from Coweta about the playoff football game Friday night. 7:00 Kickoff @ Coweta The cost at the gate is $10 (in person) and $8.35 online. The GoFan Ticket link is on OSSAA.com under the Playoff Ticket Button.
https://5il.co/28pb9
Attached is everything fans need to know to gain admission to the football game tonight in Claremore. Please be aware of their clear bag policy.
https://5il.co/28bbb
As part of our Tulsa County Hazard Mitigation Planning Committee membership we are sharing the following survey:
https://veoci.com/v/p/form/xbxpmmt2uuk3
and encourage Tulsa county residents to fill it out. The intention is to gauge citizen awareness and level of concern for hazards that could impact the Tulsa county area.
Cardinal Families, We want to remind you of the following dates: *P/T Conferences - Thurs., Oct. 12th & Monday, Oct. 16th, 4-7 PM. *Fall Fest - Thurs., Oct. 12th 6-8 PM @ Veterans Building *Fall Break, No School - October 19th-24th
Cardinal Family, We want to remind you of the homecoming parade (downtown) on Thursday. Oct. 5th at 6:30 PM, and there is No School for Students on Friday, Oct. 6th. Also, we want to encourage you to support CMS at their pancake breakfast on Saturday, Oct. 7th, from 7:30-10:30 AM at the Masonic Lodge, 17th & Broadway.
Cardinal Family, Tomorrow, October 4th, at approximately 1:20 p.m., there will be a nationwide emergency alert system test. Everyone needs to know this is only a TEST, and we are informing you to minimize panic and disruption to the school day.
Due to the impending rain forecasted for Wednesday, the softball regional has been moved to Thursday and Friday at Pryor. The Lady Cardinals play Sapulpa at 2:00 and Pryor at 4:00 on Thursday. Please remember all tickets will be sold online only through Gofan. That site can be accessed through ossaa.com