Senior Andrew Carney has been a leader for the Cardinals since the beginning. It was during the Highway 20 Bowl against the Skiatook Bulldogs that he had to learn how to change his perspective from behind the offensive line to the sidelines. Early in the biggest rivalry game of the year, Carney went for one of his typical quarterback-keeper plays that are often successful. In his attempt to avoid a Skiatook defender, Carney ran toward the sidelines and was caught by a knee-high tackle, resulting in an injury that silenced the crowd. That injury diagnosis turned out to be a partial MCL tear, which has put Carney on the sidelines for the past several weeks.
"I felt more mad than anything. Of course it hurt, but I was more mad at the situation and felt like it was gonna be a lot worse than what happened, and I felt bad because I felt like I let down my brothers and my whole town." Carney wasn't the only one that felt overcome with emotions. Head Coach Kevin Jones said, "I felt nauseous; I felt like I wanted to throw up. It was an awful feeling, you know you kind of have the tendency to think of a worse-case scenario, I literally just felt bad for him."
It wasn't clear to him in the beginning how he would adjust to his new role supporting the new starting Quarterback. Carney had to learn something that couldn't be taught. This particular situation tested his leadership skills and mental capabilities. "I knew that I couldn't sit there and lead physically, I couldn't run for a first down when we needed one, I knew that my role was gonna have to change from a physical leadership role to a mental and being there and hyping up everyone else on the sideline, even though it's hard not being out there."
Athletic Trainer Coulter Clark was the first to report to the field at the time of the injury to check on Carney. "When I first looked at it and tested everything out it looked like it was a MCL injury," said Clark. "Everything else felt good, so that was my initial diagnosis." Clark has been working alongside an OSU Student and following doctors' orders. They have been rotating through different physical therapy practices, such as range of motion exercises, strengthening the muscles, and other movements to encourage the healing process altogether.
Every athlete has a way of handling each situation. Carney says he has handled his new role and has stayed positive by keeping his head in the right places, and looking for positive things to pull out of this entire situation. "I get to grow not necessarily just physically but spiritually and I believe that I'll come out better and stronger physically and spiritually because I know God has a plan for me and whatever that is I have to follow full heartedly."
Carney has had his whole team as a support system from the moment he needed it the most. Coaches and teammates have been extremely helpful and reminding him that he will be back soon, and that has helped him keep his head up. Even the Cardinal community has been supportive in asking him how the healing process is going, and they are excited to watch him play again soon. It was before the Bartlesville game that Carney's teammates showed their incredible support. The Cardinals typically come firing out of their pre-game huddle, but this game was different. They walked out slowly with Carney in front, showing everyone how good it is to be a Cardinal and that they had their brother's back no matter what.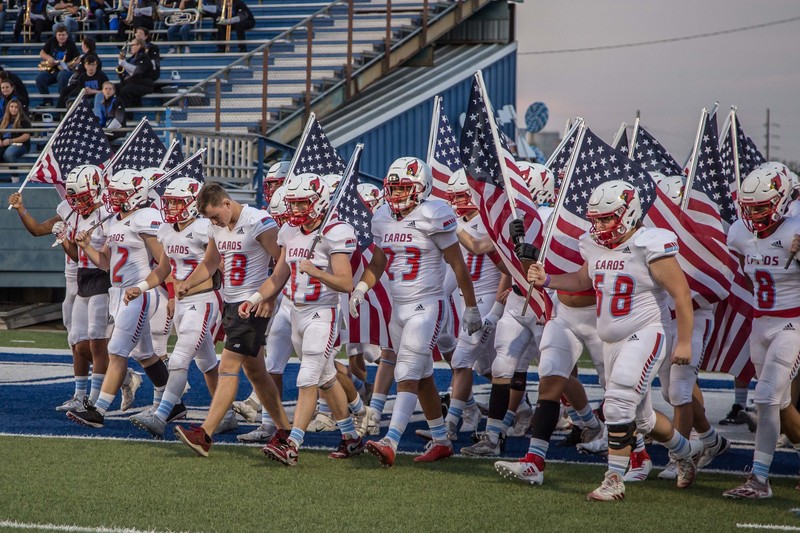 This small set-back hasn't kept Carney from enjoying the rest of his senior year with his teammates. "I feel like all of us are really close and a lot of us can trust the other guys, which is what football is about, trusting the man next to you," said Carney.
Coach Jones has been proud of the way Carney has handled this adversity. "He handled it like a champ," Jones said. "He's been super positive and worked his tail off in his physical therapy and he's been a real good leader in practice, helping in any way he can, helping Kaden [Rush] at quarterback, and he's just been a great mentor and a great leader." The Cardinals have remained undefeated this far.
Carney was cleared to return as of this week. The Cardinals will see him return to the turf Thursday night against Glenpool. Whether Carney is on the field or off, he is a leader either way and has proven that over the past few weeks.